"Webinar on Peace and prosperity:
"Student movements in the Philippines during the Martial Law era"."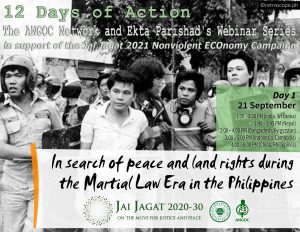 In solidarity with Jai Jagat Campaign to Make Violence History, the ANGOC Regional Network and Ekta Parishad are organizing the 12 Days of Action, a series of webinars from September 21st to October 2nd, for a maximum of 2 hours daily, to highlight initiatives and lessons in addressing violence.
In consideration of the time zones in the different countries in the region, the program will start at:
1:30 PM (India, Sri Lanka)
1:45 PM (Nepal)
2:00 PM (Bangladesh, Kyrgyzstan)
3:00 PM (Indonesia, Cambodia)
4:00 PM (China, Mongolia, Philippines)
The objective of these learning events is to discuss and exchange solutions to addressing violence, highlighting local experiences as a bottom-up approach towards countering inequality.
For the background information and daily programs of this webinar series, visit this link: https://tinyurl.com/12daysprogram for more details. Note that the ANGOC Regional Secretariat will be updating the list of topics and daily program, so please check this link on a regular basis.
We will maintain the same zoom link throughout the duration of the webinar series. Details are as follow:
Link: https://us02web.zoom.us/j/81361712535?pwd=eCs3ejJsbWZZZCtuazNwOFJFY2NDUT09
Meeting ID: 813 6171 2535
Passcode: jaijagat21
Timing:
"1:30 – 4:00 PM (India, Sri Lanka)
1:45 – 4:15 PM (Nepal)
2:00 – 4:30 PM (Bangladesh)
3:00 – 5:30 PM (Indonesia, Cambodia)
4:00 – 6:30 PM (China, Philippines)"
Venue: Philippines
For More Details: ANGOC Regional Network